Broker - Owner
Tony L. D'Anzica, JD, CIPS
Tony L. D'Anzica is the broker-owner of Dynamax Realty, Inc. a property management firm he founded in 2006. A New York State licensed attorney, Tony began his career at one of New York City's most prominent real estate law firms representing some of the largest landlords and property management firms in the country before beginning his own career in real estate investment and property management.
With his experience in landlord-tenant law, foreclosure litigation and transactional real estate, Tony's legal background and expertise brings a multi-dimensional approach to real estate investing and management.
As a real estate broker, Tony has closed countless deals representing buyers and sellers in conventional, short sale and foreclosure transactions and his firm was the first to purchase a properties from the Greater Syracuse Land Bank. 
Tony works closely with the City of Syracuse Division of Code Enforcement, City of Syracuse Corporation Counsel, City of Syracuse Dept of Assessment, Onondaga County Health Department, Syracuse Housing Authority, Department of Social Services, Catholic Charities, Vera House, Grace House, Unity House, Christopher Community and numerous other city and state agencies and charitable organizations.
Tony's management philosophy is focused on maximizing property values, cashflow and income growth, while reducing and stabilizing long term maintenance costs. Tony has helped clients from across the country and around the world, including Asia, Europe, Canada and Australia, manage and grow their real estate portfolios.
Tony earned a Bachelor of Arts from Hofstra University and his Juris Doctorate from the University of Illinois at Urbana-Champaign. Tony is on the Steering Committee of the Metro NY Illini Club, where he also chairs its annual Scholarship Program. Tony is a Certified International Property Specialist and he is currently serving as a Director of the New York State Association of REALTORS, where he advocates for fair housing, promotes property rights, and supports policies that encourage homeownership.
Chief Operations Officer & Owner
Eduardo Rodriguez
Eduardo Rodriguez is the Chief Operations Officer & Owner for Dynamax and leads our property maintenance staff. Born and raised in Syracuse, Eduardo is a real estate investor with over two decades experience in purchasing, selling, renovating and managing rental properties. Eduardo specializes in purchasing distressed properties, completing major renovations, and adding substantial value to under-performing properties.
Eduardo has managed hundreds of property renovations valued in the millions of dollars over his two decades in the real estate industry. Using techniques, strategies and a management system designed to minimize long term maintenance costs and maximize cashflow, Eduardo has been responsible for adding considerable value and increased cashflow to the properties under our management.  
Eduardo's knowledge of the Syracuse area and community brings a unique approach to property management. Eduardo's service-oriented approach, his vast network of experts and professionals, and his project management expertise are critical to maximizing the value and performance of every asset under our management. Eduardo earned his Bachelor of Arts Degree at Syracuse University. He loves fishing and camping, and he speaks Spanish fluently.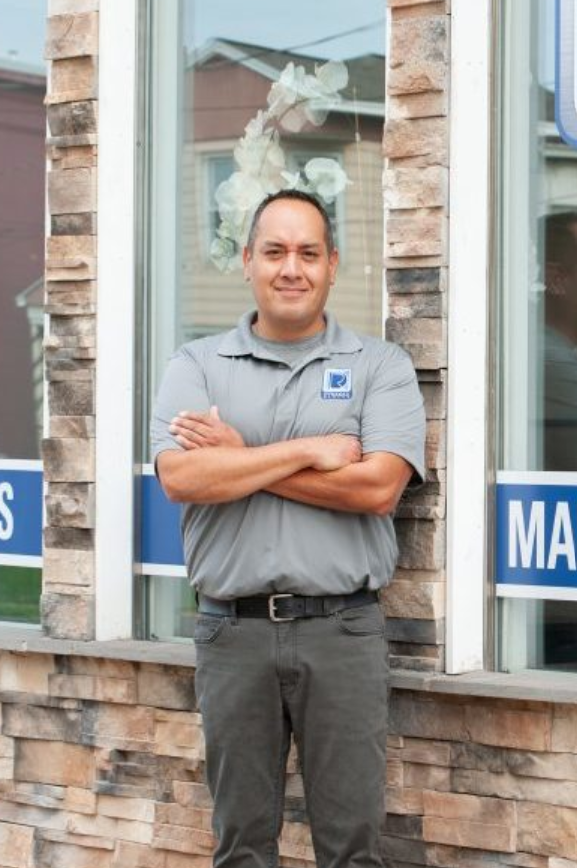 While Christine has worked extensively managing a portfolio of properties during her career at Dynamax, she has also worked very closely with both buyers and sellers, including real estate investors, homeowners, and first-time homebuyers. Her sales experience includes working with foreclosure properties, the Greater Syracuse Land Bank, and single- and multi-family residential properties throughout Onondaga County.
Christine is a member in good standing of Greater Syracuse Association of REALTORS, New York State Association of REALTORS and the National Association of REALTORS.
NYS Licensed Real Estate Salesperson
Christine Marie Billings
Christine Marie Billings was born and raised in Central New York and she is a New York State licensed real estate salesperson.
Christine focuses on both property management and transactional work, including residential rentals and sales. Her expertise is in property rentals, where she specializes in listing, marketing and renting out a significant portion of our rental property portfolio.
NYS Licensed Real Estate Associate Broker
Natalya Rodriguez
Natalya Rodriguez is a N.Y.S licensed real estate associate broker with over fifteen years of experience in property management. Natalya's numerous professional designations include Accredited Rental Manager (ARM®), Certified Occupancy Specialist (COS®), and Management and Occupancy Review Specialist
(MORS®). She has comprehensive knowledge in asset development, lease-up activities, financial management, and team development.
During her career, Natalya has managed a variety of asset types from affordable communities, to market-rate and mix-use properties. This diversified asset management range has allowed her to work with owners, monitoring agencies and lenders during inspections, audits, due diligence, acquisition and growth.
Natalya's experience includes Low Income Tax Credit, Section 8 and Rental Voucher Programs. Natalya has a good relationship with HUD, DHCR, HCR, CGI, and other state monitoring agencies.
Natalya's professional affiliations include membership in the National Association of REALTORS, New York State Association of REALTORS, Greater Syracuse Association of REALTORS, and she is a Certified Property Manager (CPM) candidate with the Institute or Real Estate Manager (IREM). Natalya also speaks Russian fluently.